Rear Big Brake System WHIT HANDBRAKE Mitsubishi Montero ALL Version 380x32 6 POT - Yellow Speed Brake
BBK Big Brake System Yellow Speed WHIT HANDBRAKE ADAPTOR
This innovative system allows you to install an oversized brake kit on the rear axle while maintaining the OEM series handbrake.
Usually at the rear, to optimize braking, only "Brake Discs, Aircraft Hoses and Sport Brake Pads are replaced.
Larger brake systems are rarely installed, as the use of the handbrake for road / Trackday cars would be lost.
This system involves the use of a pneumatic spring valve, which must be installed behind the rear caliper, remaining hidden.
As shown in the photo below, the spring valve provides an oil inlet and an outlet, in the middle of these two parts there is a linkage like the one present in a standard system to be able to hook the steel cable of the system . When the handbrake is activated, the linkage pressurizes the oil by operating the caliper, and when the brake pedal is pressed the oil is bypassed by the valve by directly operating the brake caliper. In this way you have a caliper that gives 100% both with the pedal and with the handbrake. Everything connects directly on the prepared brackets WITHOUT PERFORMING ANY MODIFICATION.
The kit provides everything for an easy and safe assembly: Brake calipers, Handbrake valve, Disassembled slotted discs with ERGAL bell, Brackets, Aircraft hoses, brake pads, copper washers, grease for assembly, protection for packaging .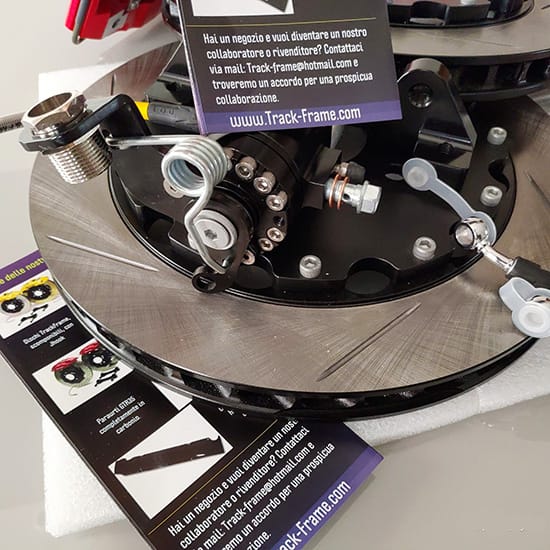 Yellow Speed ​​Increased Brake Kit
The "Yellow Speed" Increased Brake Kits are an excellent alternative to Brembo, Alcon, etc.
The Yellow Speed ​​Kits are designed for "street sports" use and circuit use.
This increased brake kit offers optimal braking performance, attractive aesthetics, ease of installation and very affordable price.
We are proud to say that all the components we use in the kits are first choice material to guarantee the durability and strength of the product.
Yellow Speed ​​Brake Kits offer the same powerful braking performance as Top Brands but at half the price.
The Yellow Speed ​​Racing Kits are an excellent upgrade for any high-performance car for both road sports use and dedicated track use,
Compatibility Brake calipers and disks
Choose between 4-6 pump sizes, in a wide range of sizes and customize your car with the variety of colors available.
No company offers this choice of colors, including paint or anodizing treatment.
The Yellow Speed ​​Kits are compatible with normal pads available on the market such as, Ferodo, Brembo, EBC, PCF and much more.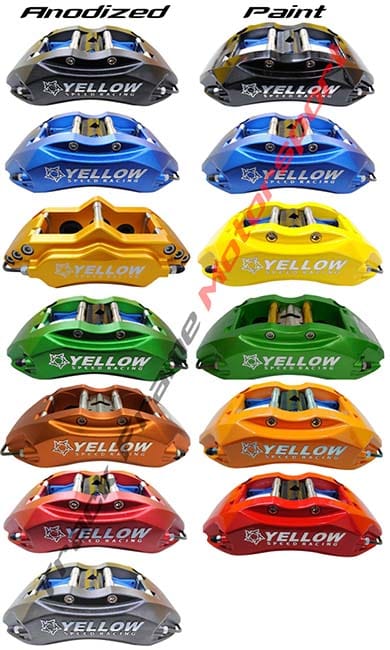 To keep in mind
Available in the following sizes:
286x26-4Pot - 15 "wheels
286x26-6Pot - 16 "wheels
304x26-4Pot - 16 "-17" wheels
304x26-6Pot - 16 "-17" wheels
330x32-6Pot - 17 "wheels
345x32-6Pot - 18 "wheels
356x32-6Pot - 18 "wheels
380x34-8Pot - 19 "-20" wheels
405x36-8Pot - 20 "wheels
Caliper dimension and Weight
kit 286mm x 26mm 4Pot (239mm x 74mm - 4.3KG Pair)
Kit 304mm x 26mm 4Pot (293mm x 81mm - 4.3KG Pair)
Kit 330mm x 32mm 6Pot (293mm x 81mm - 5.7KG Pair)
Kit 345mm x 32mm 6Pot (293mm x 81mm - 5.7KG Pair)
Kit 356mm x 32mm 6Pot (293mm x 81mm - 7.0KG Pair)
Kit 380mm x 34mm 4Pot (351mm x 95mm - 9.1KG Pair)
Kit 405mm x 36mm 8Pot (351mm x 95mm - 9.1KG Pair)
* The kits are not compatible with cars equipped with electronic handbrake, after removal.